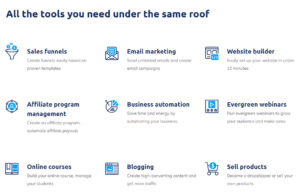 systeme review – Aalright, let's dive right in! Picture this: You've got a million-dollar idea for a digital product or service, or you're ready to dive into the world of affiliate marketing. But where do you start? How do you bring your vision to life and reach your audience? Enter systeme.io, the all-in-one marketing platform that's here to make your entrepreneurial dreams come true.
Introduction
Imagine having a tool that allows you to create sales funnels, manage your email marketing, build your own membership site, and even manage your affiliates, all in one place. That's exactly what systeme.io offers. It's like having your own personal marketing team, but without the hefty price tag.
For Digital Product/Service Sellers
If you're looking to sell your own digital product or service, systeme.io has got you covered. With its easy-to-use sales funnel builder, you can guide your potential customers from their first interaction with your brand all the way to the checkout page.
But that's not all. With systeme, you can also create your own membership site. This is perfect if you're offering online courses or exclusive content for members only. 

I run my own online course with systeme and can tell you: "Everything has been so easy. I have built lot´s of membership sites (with productdynow,wishlist and clickfunnels) however, with systeme I built a course as fast and easy as possible. It´s damn easy. I don't think I will ever change again."
And systeme provides a marketplace you can use to find affiliates who want to promote your product or service.
For Affiliate Marketers
If you're an product vendor like me, systeme is a dream come true. With its affiliate management feature, you can easily keep track of your affiliates and see how they're performing. I agree with Mauricio V., an affiliate marketer, who said: "I have never seen such a generous offer that you can actually start your own blog, sell your own products, sell their affiliate programs and offer your own, all on the free tier? If you're an affiliate marketer, there's no reason you shouldn't be using this software to build your entire business."
If you want to promote products from other vendors you can use systeme to build your sales funnel and capture leads before sending prospects to your bridge page or offer page.
Email Marketing and More
No matter what your online business is, email marketing is a crucial part of reaching your audience. With systeme, you can build and manage your email lists, create email newsletters and campaigns, and even automate your marketing.
In Conclusion
Whether you're selling your own digital products or services, or diving into affiliate marketing, systeme is the tool you need. With its wide range of features, ease of use, and positive user reviews, it's the perfect platform to launch your online business. And the best part? You can start for free. So why wait? Start your journey with systeme.io today!
cliqly - eMail marketing business
Cliqly is a powerful tool that harnesses the power of email marketing. It operates on a credit system, allowing users like me to purchase credits, access a list of emails, and send promotional emails to them. This system enables us to send mass emails to promote different offers and potentially generate income from home.
Email marketing is a crucial aspect of any business strategy, including mine. It's a cost-effective and conversion-rich form of digital marketing that allows businesses to keep their customers informed and customize their marketing messages accordingly. According to a report by Oberlo, for every $1 spent on email marketing, an average return of $40 is expected. This high return on investment (ROI) makes email marketing a valuable tool for businesses of all sizes. Source
Now, let's talk about my personal experience with Cliqly. I joined Cliqly 10 days ago and have seen a significant increase in my list, tripling in size since joining. This growth is a testament to the effectiveness of Cliqly's system.
I've been making an average of $12 per day provision per 100k emails from the in-built pay per click link, and I've been paying $10 per 100k emails. This indicates a positive return on my investment.

In addition to this, I've been able to grow my list through Cliqly's flash sale offers. Over the last three days, my daily provision has increased to $15 a day, showing a steady growth in my earnings.
In conclusion, Cliqly has been a beneficial tool for me. It has helped me grow my list, increase my daily provision, and achieve a positive return on my investment. I've expressed satisfaction with the program and it's clear that Cliqly is working well for me. Email marketing, with its high return on investment, is a powerful tool and Cliqly is a platform that leverages this tool effectively. I love the program so far.